Steel ball production line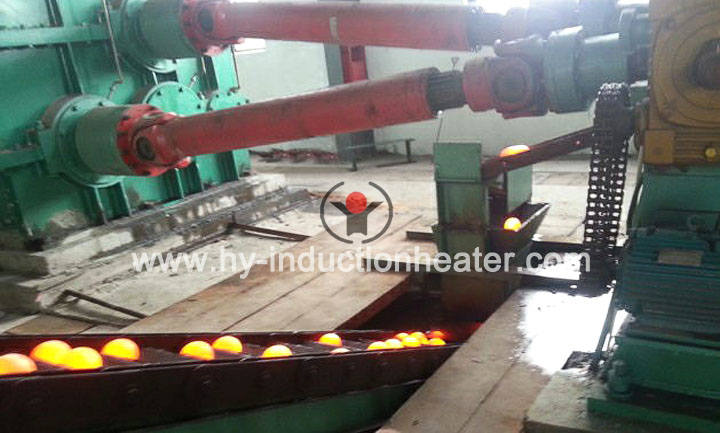 Features:
| | |
| --- | --- |
| Power | 100KW-8000KW |
| Frequency | 500Hz-8000Hz |
| Heating Diameter | Ø16-150MM |
| Automatic Operation | Siemens PLC |
Product Detail
Application Video
Product Tags
Product Name: Steel ball production line
Forever steel ball production line includes steel ball hot rolling and steel ball forging process.
In 2008,we manufactured the first bar continuous heating production line used for steel ball rolling in China and the equipment is running very well in customer's factory.The energy saving effect is obvious.
In 2015,we finished 125mm steel ball heating continuous rolling production line.The medium frequency heating power is 5500KW,the output is 16 tons per hour. We adopt PLC automatic control for large power equipment in recent years,which reduce labor cost and improve working efficiency
Steel ball hot rolling production line: Bar heating–skew rolling mill–quenching–tempering–Cooling–packing
Steel ball forging production line:Bar heating–forge forming-quenching–tempering–Cooling–packing
Main parts for Steel ball production line
1. Storage rack and automatic transmission device.
2. Induction heating furnace and temperature control device
3. Skew rolling mill or forge machine
4. Hoisting, conveying and cooling device of steel ball
5. Isothermal quenching device
6. Car-type or on-line mesh-belt tempering furnace
7. Automatic control system for quenching temperature, water temperature discharging after quenching & tempering temperature
| | | | |
| --- | --- | --- | --- |
| Steel ball diameter | Unit weight(g) | Production capacity(PCS/Minute) | Production capacity(KG/H) |
| Ø25mm | 72 | 100 | 432 |
| Ø35mm | 197 | 80 | 945 |
| Ø30mm | 125 | 100 | 750 |
| Ø40mm | 296 | 80 | 1420 |
| Ø50mm | 578 | 58 | 2011 |
| Ø50mm | 578 | 50 | 1734 |
| Ø60mm | 999 | 50 | 2997 |
| Ø70mm | 1586 | 30 | 2854 |
| Ø80mm | 2367 | 20 | 2840 |
| Ø80mm | 2.367 | 60 | 8521 |
| Ø100mm | 4.14 | 10 | 2484 |
| Ø125mm | 7.18 | 10 | 4308 |
Hot rolled steel ball machine      Bar induction heating       Billet induction heating      Pipe induction heating