Induction billet heating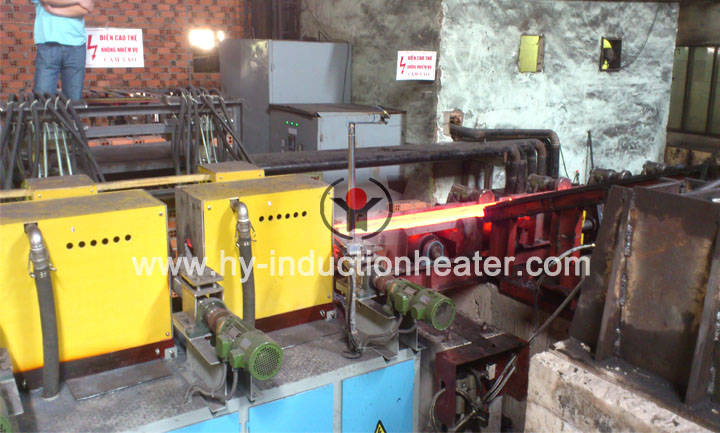 Features:
Application: Forging & Rolling
Material Heated: Carbon Steel & Alloy Steel
Diameter Allow: Φ20-150mm
Length Allow:Not limited
Product Detail
Application Video
Product Tags
Product Name: Induction billet heating equipment
Typical Application:
Induction heating is fast, precise, clean, energy efficient, controllable and repeatable. No idle time, no massive refractories to heat, and close coupling enables you to use energy in the best possible way.
There is two kinds of methods for billet heating production line:
1.Cold billet heating–Our billet induction furnace will heat the billet from room temperature to 1200 ℃ for rolling;
2. Billet online heating–After the billet discharging from continuous casting machine, it need to regain heat before charging rolling mill.Then our billet induction furnace is playing an important role that reheating the billet to rolling temperature.
Features
IGBT(SIEMENS) technology, high conversion efficiency

Much more efficient than gas-fired and coal-fired method

100% start-up success rate; power factor > 95%

Perfect and complete protection functions, increasing machine's reliability & stability

No special foundations required, Low operating cost, Easy operation

Modular design, ease of maintaining and repairing
NEW TYPE POWER SUPPLY
     ● Power saving 10% -15%:No harmonics, high power factor, load output voltage is high, the load coil current is low,small power consumption.
     ● Using special transformer for electric furnace.
     ● 100% successful starting.Reliable frequent starting is available.
     ● The furnace has high reliability: This product uses the latest DSP control technology, with reasonable structure, easy commissioning & reliable performance, which has automatic protection functions including water temperature, water pressure, phase shortage, over-current, under-voltage to ensure The product is running in stable and reliable condition.
    ● Adopt famous brand components which reduce fault rate and make sure the equipment can run reliably, thereby reducing the shutdown probability caused by failure.
    ● Advanced technology & Easy maintenance: Having simple structure,perfect protection for control circuit & the most advanced touch screen control, our power supply can show complete failure and find the error.It adopts DSP control technology, which has a high processing speed, which ensures the efficient and orderly operation of the device functions. real-time computing function and real-time simulation and simulation capability.

More adaptable for load: New type IF induction power supply has self-adaptive function with angle adjustment. No need to adjust power supply while replacing inductor, and the equipment can automatically run in the best condition.
Billet size
Billet length
Heating Temp.
Production capacity
60*60mm2

3m-4 m

1000℃-1100℃

 

25T/H

75*75mm2

3-6 m

Room Temp.-1100℃

 

25T/H

100*100mm2

2 m

750℃-1000℃

 

7T/H

120*120mm2

 

750℃-1100℃

 

30T/H

120*120mm2

11.5-12.5m

950℃-1150℃

 

90T/H

125*125mm2

6  m

Room Temp.-1200℃

 

8T/H

125*125mm2

2 m

750℃-1000℃

 

7T/H

130*130mm2

6 m

950℃-1150℃

 

50T/H

135*135mm2

6 m

950℃-1150℃

 

100T/H

150*150mm2

11.5-12.5m

950℃-1150℃

 

70T/H
As our induction heater is all customized, please tell us your billet section size, length, heating temperature and production capacity, then we will give you solution and best price.
Welcome to contact us at sales@foreverfurnace.com for customized detailed price & solution.