Induction billet heater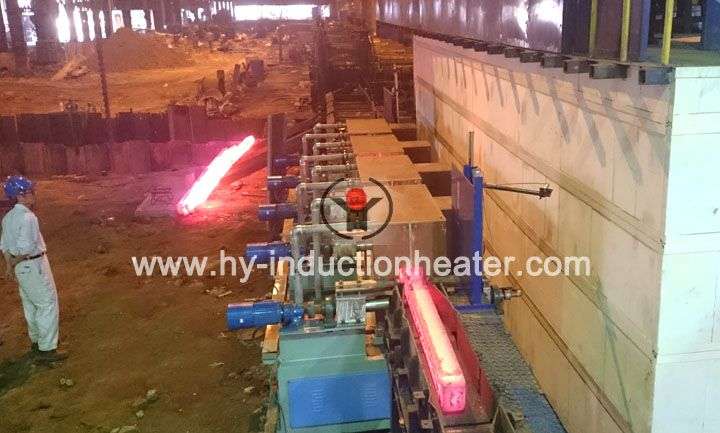 Features:
| | |
| --- | --- |
| Application         | Steel billet heating before hot rolling    |
| Power  | 100KW-8000KW |
| Non standard | Professional customization |
| Temp.control | Infrared thermometer |
Product Detail
Application Video
Product Tags
Product Name: Induction billet heater
Typical application:
Forever manufacture and supply a wide range of induction billet heater for billet forge heating and rolling heating applications. Our induction billet heater has realized automatic and inline heating before billet charging into rolling mills. Usually, our induction billet heater can heat the billet temperature from 700-800℃ to 1050-11200℃ to meet production requirements.
Induction billet heater working layout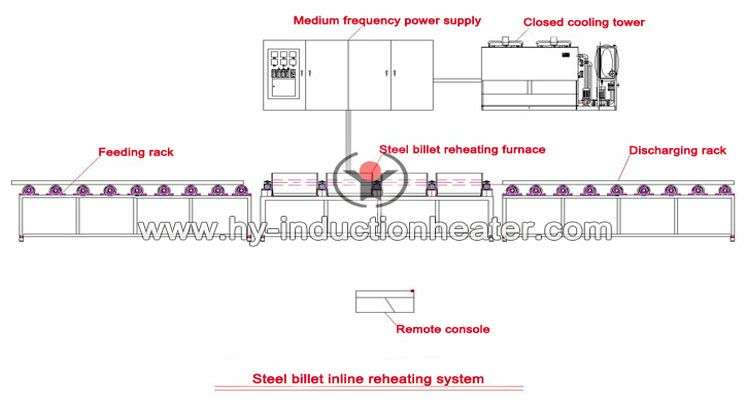 Induction billet heater main component
● Medium frequency power supply
● Induction billet heater :     Designed as per billet size and capacity
● Capacitor
● Remote control box
● Infra Red Pyrometer
Advantages of induction billet heater
● High efficiency, precious induction heating.
● Proven and mature design
● No preheating time,100% successful start rate.
● Automatically store technical parameters,allow for inquiry,print.
● Heavy Duty Construction, for toughest forging conditions
● After-sales service: professional engineer will help to install and debug the billet induction heating equipment.
| | | | |
| --- | --- | --- | --- |
| Bar Diameter | Bar Length | Heating Temp. | Production capacity |
| Φ36-45mm | 1500mm | 1125°C ± 25 | 3T/H |
| Ø60mm | 6000mm | 1200℃ | 4.4T/H |
| Ø70mm | 6000mm | 1200℃ | 5.3T/H |
| Ø80mm | 6000mm | 1200℃ | 6T/H |
| | | | |
| --- | --- | --- | --- |
| Billet size | Billet length | Heating Temp. | Production capacity |
| 60*60mm2 | 3m-4 m | 1000℃-1100℃ | 25T/H |
| 75*75mm2 | 3-6 m | Room Temp.-1100℃ | 25T/H |
| 100*100mm2 | 2 m | 750℃-1000℃ | 7T/H |
| 120*120mm2 |   | 750℃-1100℃ | 30T/H |
| 120*120mm2 | 11.5-12.5m | 950℃-1150℃ | 90T/H |
| 125*125mm2 | 6  m | Room Temp.-1200℃ | 8T/H |
| 125*125mm2 | 2 m | 750℃-1000℃ | 7T/H |
| 130*130mm2 | 6 m | 950℃-1150℃ | 50T/H |
| 135*135mm2 | 6 m | 950℃-1150℃ | 100T/H |
| 150*150mm2 | 11.5-12.5m | 950℃-1150℃ | 70T/H |
Related product:  Billet induction heater     billet induction heating      Steel billet hot rolling