Anchor bolt heat treatment line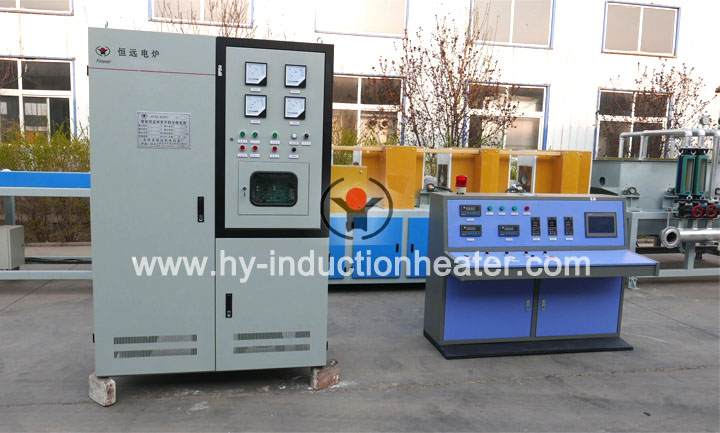 Features:
Application: Quenching & Tempering
Material Heated:45#,40Cr,42CrMo,65Mn
Diameter range: ø10-120mm
Heating way: Induction heating
Product Detail
Application Video
Product Tags
Anchor bolt heat treatment line
●  Product Name:Anchor bolt heat treatment line, Anchor bolt quenching heat treatment line
●  Diameter range: 10mm-120mm 
●  Medium frequency power: 350KW-1500KW 
●  Product highlights: Import components, reliable performance, proven induction heating technology & good heat treatment effect
Anchor bolt heat treatment line advantages
●  Fast heating: heating speed of less than 1 second, and the heating speed can be adjusted.
●  Wide application: can be used for different metal parts (our induction heater is made according to the user's workpiece shape).
●  Low power consumption: thermal efficiency can be up to 98%.
●  Good effect: Uniform heating, warming up quickly, reducing surface deformation of the workpiece.
●  High efficiency: PLC automatic control, digital, high depth adjustable parameters, easy to operate the equipment.
●  According to the users requirement,we can provide with a touch screen or industrial computer system remote console.
Temperature closed loop control system: Infrared thermometer can measured billet heating temperature at the furnace exit, we can check whether there is overheating or incomplete heating. This can reduce the quantity of unqualified products, ensuring the consistency of product quality.
Select the billet heating process system : Customers can gain and save corresponding process parameters according to different billet size through process adjustment. Related process standards can be preset for later use.
If you are interested in our induction heating equipment, please send us inquiry at sales@foreverfurnace.com or call us at whatsapp +8618932783253.