Steel ball rolling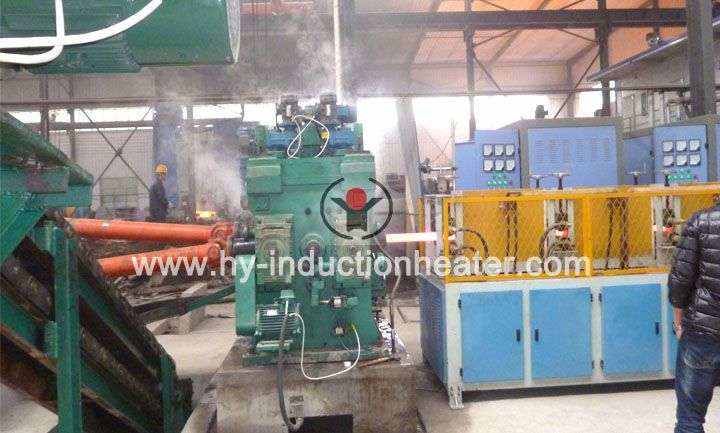 Features:
Manufacturing Process:Hot rolling
Material Heated:65MN  60MN  70Cr2  B2  B3  40cr  45#
Steel Ball Diameter: Φ20-150mm
Length Allow:Not limited
Product Detail
Application Video
Product Tags
The steel ball or steel grinding ball are a material grinding media of ball mill and coal mill. It functions as an important component of ball mill under grinding and cutting effect brought by the friction between grinding balls or grinding ball and materials. It has an important position in national economy like mineral processing,power station and cement plant.
Forever is a professional manufacturer and exporter of steel ball rolling mill in China.
Main production process for steel ball hot rolling
1.Factory inspection for bar material and diameter.
2. Using induction heating furnace to heat bar raw material to proper temperature  before rolling.
3. Red-heat billet rotates forwards between 2 special spiral-hole rollers and is continuously rolled into steel ball after being sent into ball rolling mill. Each set of ball rolling mill can be rolled into 40~120 steel balls per minute.
4. The rolled red-heat steel ball is immediately put into online heat treatment device for quenching when it is cooled to hardening heat, after quenching, it is cooled to proper temperature(50℃ below), and then put into online continuous tempering furnace for destressing tempering, so as to make steel ball obtain high and uniform hardness.
5. The qualified products after inspection are delivered to finished goods warehouse for customers after being packaged.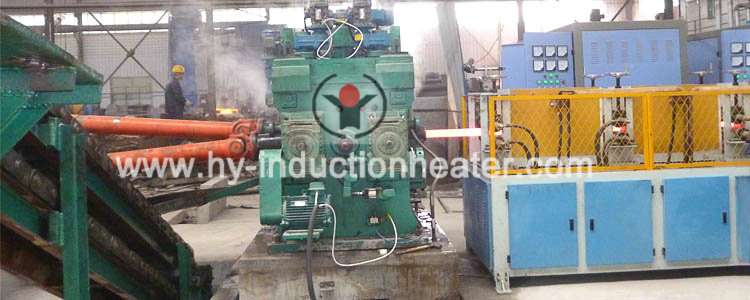 Hot rolled steel balls pictures
Hot rolled steel balls  characteristics are as shown below:
 A. High over hardness: surface hardness can be up to 57HRC-67HRC, volume hardness is up to 56HRC-64HRC and hardness gradient
is evenly distributed;
B. High impact toughness: impact toughness is more than12J/cm  ;
C. Low breakage rate: peeling resistance and crushing resistance are10 times above than the general casting-forging steel ball, the frequency of Falling Ball Impact is above20000 times, actual breakage rate does not exceeds1%, close to zero crushing
The steel ball hot rolling production line researched, designed and manufactured by our company is the full-auto assembly line work, it is up to the latest level of hot-rolled steel ball production.
Successful cases
| | | | |
| --- | --- | --- | --- |
| Steel ball diameter | Unit weight(g) | Production capacity(PCS/Minute) | Production capacity(KG/H) |
| Ø25mm | 72 | 100 | 432 |
| Ø35mm | 197 | 80 | 945 |
| Ø30mm | 125 | 100 | 750 |
| Ø40mm | 296 | 80 | 1420 |
| Ø50mm | 578 | 58 | 2011 |
| Ø50mm | 578 | 50 | 1734 |
| Ø60mm | 999 | 50 | 2997 |
| Ø70mm | 1586 | 30 | 2854 |
| Ø80mm | 2367 | 20 | 2840 |
| Ø80mm | 2.367 | 60 | 8521 |
| Ø100mm | 4.14 | 10 | 2484 |
| Ø125mm | 7.18 | 10 | 4308 |
Hot rolled steel ball machine      Bar induction heating       Billet induction heating      Pipe induction heating