How much is it to buy a set of high-quality steel bar induction heating furnace? This is a problem that every user is worried about when purchasing steel bar induction heating furnace. YUANTUO electromechanical Xiaobian will give you a brief introduction. YUANTUO Electromechanical is a professional manufacturer of induction heating equipment. With many years of experience in induction heating equipment, we can customize the steel bar induction heating furnace for you according to your process requirements. If you choose a steel bar induction heating furnace, you should go to a regular manufacturer of medium frequency
Induction heating equipment, and the quality after-sales is guaranteed.
How much is a set of steel bar induction heating furnace?
According to the market, the price of steel bar induction heating furnace usually ranges from 150000 to 800000. It also needs to be determined according to the manufacturer, equipment model, production capacity and production efficiency. Because there are various types of steel bar induction heating furnace and many sellers, some are sold directly by manufacturers and intermediaries, even if they are made by different induction heating equipment manufacturers of the same model, The technical parameters such as output, configuration and motor power are also slightly different, which makes the price of steel bar heating furnace different.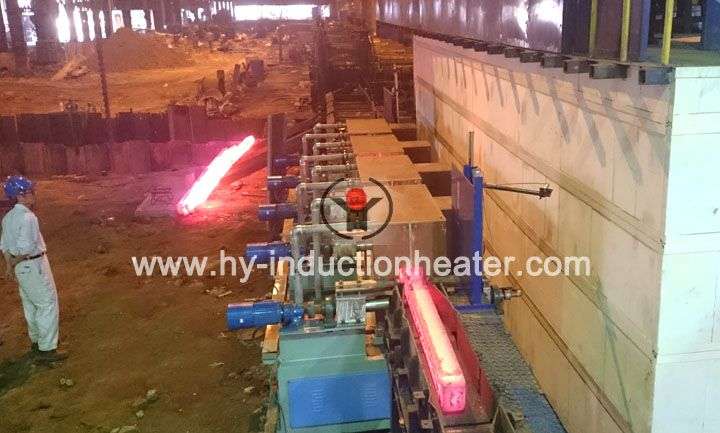 Here are the advantages of YUANTUO steel bar induction heating furnace:
1. Uniform heating temperature, high temperature control accuracy, small temperature difference and no pollution.
2. High startup success rate and strong reliability.
3. Frequency conversion / load change adaptation, induction heating capacity of steel (diameter / wall thickness / length / material) of up to specifications and varieties. Users can choose to change the furnace manually or automatically, which can be widely used, so as to maximize the utilization rate of the equipment (diversified applications of frequency conversion, one drive and many).
4. Temperature closed-loop control system, infrared thermometer measures the heating temperature of the blank at the outlet of the induction furnace, and displays the heating uniformity in real time.
5. Intelligent control system of medium frequency diathermy furnace: intelligent and customized operation monitoring system based on digital platform design, with high production efficiency.
6. Quality monitoring system and quality traceability function, real-time monitoring / remote control of operation status, fault self diagnosis function.
7. The man-machine interface PLC fully automatic intelligent control system has the function of one key start.
Hebei YUANTUO electromechanical factory has been established for many years, with standardized equipment plants and complete equipment models. The steel bar induction heating furnace is customized according to your requirements. YUANTUO electromechanical induction heating equipment has always been self-produced and sold, with more than a dozen ex factory quality standards and timely delivery (promised according to the contract date). About hot-rolled piece heating furnace, stainless steel bar hot rolling production line For the price of metal heating equipment, you can click the consultation at any time to understand the details list. This month, the manufacturer has launched a discount of 10000 yuan. The sales manager will introduce it to you to help you reasonably select the type and design the production scheme, and support to visit the factory. There is a special car for free reception.

Overseas manager: Tom Wang
Email:tom@foreverfurnace.com
Phone: 0086-13303078975(whatsapp, wechat,line)
---
Post time: 09-03-2021