The leaf spring induction heating equipment realizes unmanned operation and automatically records various production data.
Forever leaf spring heating furnace is an induction heating furnace with high efficiency, material saving and labor cost saving in the production of spring sheet work piece. Its operation setting is very simple in actual use. After loading, feeding, heating and unloading of leaf spring, it only needs to set the parameters on the PLC intelligent remote control console.Then the leaf spring induction heating equipment will work without any manual operation and automatically record various kinds of production data.
The main control part is in the main control interface, the upper half of the left side of the display is "actual temperature and set temperature" in the middle of the display is "leaf spring heating furnace working status". There is also a "temperature controllable and uncontrollable" transfer switch. The bottom half of this interface shows the status of the "temperature control curve" of leaf spring induction heating furnace during operation.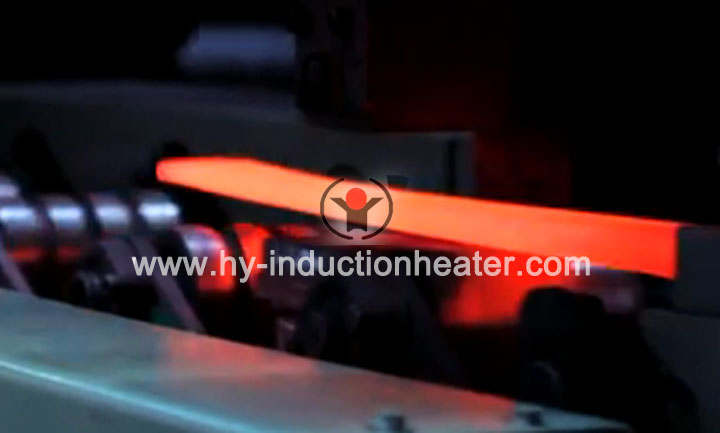 Recipe management function
Powerful formula management system, only need to input the steel grade, specifications, wall thickness parameters to be produced, automatically invoke the relevant parameters, no need to manually record, consult, input the parameters required for various workpieces.
Function of historical curve
Traceable process history curve (industrial computer system standard), accurate to 0.1 second recording accuracy, image, accurate reproduction of a single product heating temperature trend diagram. The capacity storage space up to 1T is kept for decades.
Historical records
The traceable springboard heating data sheet can take out multiple sets of sampling points on each product and accurately reproduce the processing temperature values of each segment of a single product. Touch screen system can store about 30,000 process records, which can be U disk or network backup; industrial computer system is completely free of storage space restrictions, permanent storage for decades of all product process records.
There are three distinct advantages in the simplified operation of Forever leaf spring induction heating furnace.
1. Customized man-machine interface for the PLC intelligent touch screen remote console. It has high humanized operation instructions, man-machine interface friendly operation, programming parameters are very intuitive.
2. All-digital, high-depth adjustable parameters, easy to learn, so that you can control the the spring heating production line handily.
3. It is equipped with over-temperature alarm and power-off alarm and end production, no material production alarm, temperature deviation alarm, SCR short-circuit alarm, program end alarm and power-off.
4.Strict grade management system and perfect one key reduction system. According to different countries and regions, we can provide corresponding language switching.

Overseas manager: Tom Wang
Email:tom@foreverfurnace.com
Phone: 0086-13303078975(whatsapp, wechat,line)
Specialist of induction hardening and tempering furnace is glad to be your partner in the field of induction heating.
---
Post time: 10-25-2018