Steel long bar heat treatment machine unlock the new mode of becoming rich!
Every company, enterprise and even every individual hopes to get more wealth and more value. For a heat treatment enterprise, it is not difficult to get further wealth value, a new set of long bar heat treatment machine can help you !
The new mode of unlocking the steel long bar heat treatment machine is now full of intelligence and high technology everywhere. Having high technology means having the opportunity to seize the market. At this time, wealth will naturally follow you.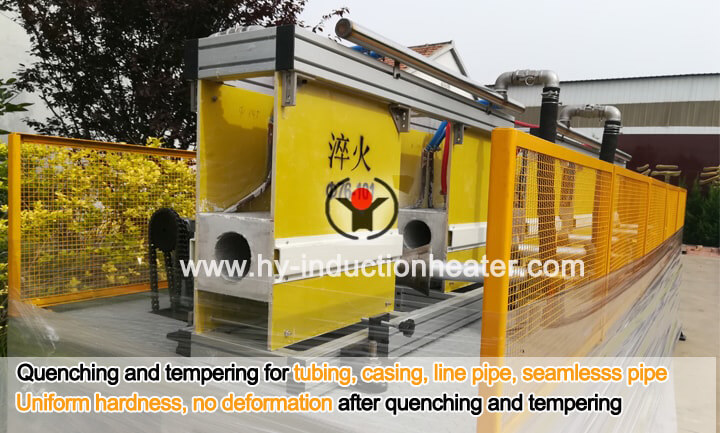 1. The long bar induction heat treatment machine has the leading induction heating technology in the world. The equipment adopts PLC system automatic control, which can realize remote control, touch screen real-time display and grasp the process parameters, which can be adjusted immediately and realize safe and automatic production, and can also save a lot of labor intensity and manpower investment for the company.
2. The whole long bar heat treatment machine is simple and convenient to install, compact in structure, small in volume and light in weight, simple in operation, no other installing and matching facilities are needed. It is ready to use, no need to preheat in advance, energy saving and power saving.
3. The steel long bar heat treatment machine has strong adaptability. It can form a continuous production line with other heating equipment, and it can also be operated by a single machine. It can heat other shape workpieces. It is convenient and quick to exchange the corresponding induction heaters only according to different specifications of products.
4. The long bar heat treatment machine is green, automatic and energy-saving. The equipment adopts electromagnetic induction heating principle, which makes the workpiece begin to produce heat within itself. It is equipped with Forever's unique environmental protection optimization system, so that the production process of the equipment is free of high temperature, smoke and noise and truly creates a good non-polluting working environment. .
5. The continuous quenching and tempering furnace has a long service life. All the components of the equipment come from international famous brands, which can increase its service life. The equipment is equipped with complete protection system, including water temperature, water pressure, lack of phase, over-voltage, over-current, voltage limit, current limit, start-up over-current, constant current and buffer start-up, so that the equipment can start smoothly. It is reliable, fast and stable. It can also increase the service life of the equipment.

Overseas manager: Tom Wang
Email:tom@foreverfurnace.com
Phone: 0086-13303078975(whatsapp, wechat,line)
Specialist of induction hardening and tempering furnace is glad to be your partner in the field of induction heating.
---
Post time: 10-31-2018