Induction heating technology is adopted in steel pipe hardening and tempering furnace to save energy efficiently.
Wuqiao Forever Electromechanical Equipment Factory has been established for more than ten years and is one of the leading manufacturers of induction heating equipment in China. Over the years, Forever has been committed to research, development, manufacture, installation, maintenance, renovation of bar heat treatment equipment, pipe hardening and tempering furnace, rod heat treatment equipment, billet induction heating furnace.
Relying on professional design team, advanced production technology, efficient management and control, perfect quality system, thoughtful and complete after-sales service, Forever has been the leading in the field of hardening and tempering furnace used for different kinds of workpiece.
The characteristics of induction pipe hardening and tempering furnace, the complete set of equipment of energy-saving medium frequency steel pipe hardening and tempering furnace produced by Forever can achieve on-line quenching heating, spraying quenching cooling and tempering heating. The technical parameters of equipment and heat treatment parameters are controlled by computer. Compared with the traditional heat treatment features, the yield strength is increased by 15.1%-17.9%, the plasticity is increased by 11.5%-22.2%, the grain size is finer, the hardness is uniform and the straightness is greatly reduced. It is worth popularizing.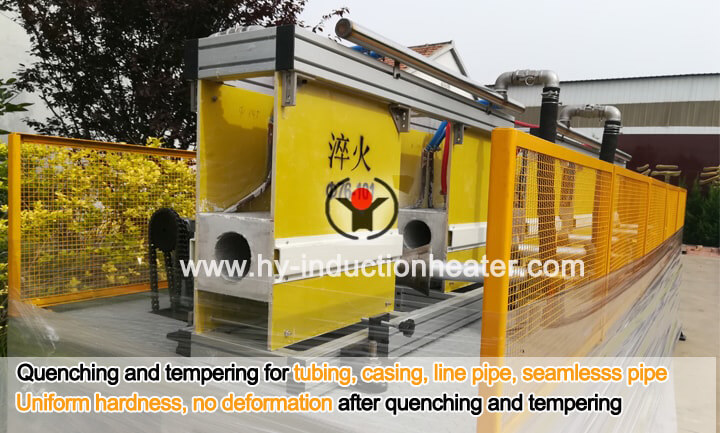 Induction heating, as an industrial heating method, has attracted increasing attention in the field of steel heat treatment. This heating method has a series of advantages, such as high energy flow density, fast heating speed, high thermal efficiency, energy saving, no environmental pollution, etc. It can be applied to steel tube, bar, strip, wire intermediate annealing and finished product heat treatment. Among them, the rapid development is the normalizing and quenching and tempering treatment of the steel tube, and the annealing treatment of the welded pipe. At present, it has been widely used in oil drilling, geological drilling, coal mining, infrastructure exploration and other fields.
In 1975, induction heating quenching and tempering process was used in the United States, Japan, Russia and other countries to produce, oil drilling using high-strength seamless steel pipes, such as tubing, casing and other high-strength. Induction heating on-line continuous annealing process is used instead of gas heating annealing in welded pipe production. The steel pipe produced by induction heating treatment has high strength, good toughness and stable quality, and soon gets wider application.
In China, the first induction heating pipe hardening and tempering furnace was built and put into operation in Shougang Special Company in 1983. The total power of the equipment is 300KW, 2500Hz. The main products are diameter 40~70mm small diameter low alloy high strength seamless steel pipe. The product has been applied to oilfield production, geological drilling and foundation detection, and achieved good results. In recent years, the technology and equipment of induction heating ppipe hardening and tempering furnace have been developed rapidly. Several production lines of induction heating and tempering for steel pipe, such as tubing, casing and welded pipe, have been introduced. These production lines provide a large number of high strength, high toughness and high quality seamless steel tubes for the country.

Overseas manager: Tom Wang
Email:tom@foreverfurnace.com
Phone: 0086-13303078975(whatsapp, wechat,line)
Specialist of induction heating equipment is glad to be your partner in the field of induction heating.
---
Post time: 08-29-2018