Induction heating PC rebar,PC rebar induction heating
To meet diverse needs of our esteemed customers all over the world, Forever is offering PC rebar induction heating equipment which is ideal to fulfill heating needs, the given PC rebar induction heating equipment is provided in numerous specifications as per the requirements of customers. This PC rebar induction heating equipment is designed by our competent professionals utilizing the best grade basic material and modern technology.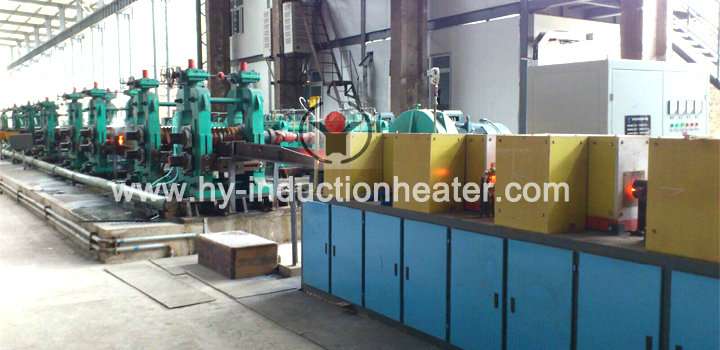 Application of PC rebar induction heating equipment
Through Heating for long bars and billet before forging.
Hot forging aims to fabricate the work pieces of certain temperature (different materials require different temperatures) into other shapes through forging press with the help of punch press, forging machine or other equipments for instances, hot extrusion of watch case, watch flan, handle, mold accessory, kitchen and table ware, art ware, standard part, fastener, fabricated mechanical part, bronze lock, rivet, steel pin and pin.
Heat treating (induction quenching/hardening/tempering/annealing):
It's mainly aims to change the rigidity of the metal materials through the heat treatment to work pieces. Detail applications are stated as follows:
Harden for various hardware and tools, such as pliers, wrench, hammer, ax, screwing tools and shear (orchard shear).
Harden for various automobile and motorcycle fittings, such as crankshaft, connection rod, pinton pin, chain wheel, aluminum wheel, valve, rock arm shaft, small shaft and fork. Various electric tools, such as axes and gear.
Harden for machine tools, such as lache deck and guide rail.
Harden for various hardware metal parts and machined parts, such as shaft gear (chain wheel) cam, chuck and clamp. Etc.
Harden for hardware molds, such as small size mold, mold accessory and inner hole of mold
Welding (brazes welding, silver soldering and brazing):
Hardening and tempering sucker rod,drill pipe,grinding rod, thick wall tube,drill rod and so on.
Videos for rebar heating for rolling mill
Related news:  Rebar heating for rolling      Round bar forging furnace      Induction forging furnace  
                     Induction heating equipment suppliers     Metal case hardening shaft manufacturers China

---
Post time: 10-14-2016