Continuous casting billet heating furnace used for billet rolling rebars/deformed bars
Are you looking for the continuous casting billet heating furnace in China? If yes, please contact with Forever salesperson. For the continuous casting and rolling process, Forever engineer has rich experience as we have already designed at least 20 sets of continuous casting billet heating furnace for the users. The largest power is Taiwan project with 7500KW power and 50T/H capacity. Now Taiwan continuous casting billet heating furnace has been running for 3 years without any harmonic problem.
Brand: Forever
User: Philippines
Processing custom: Yes
Material: carbon steel, alloy steel;
Size: 120mm x 120mm x 6000mm;
The Max. curvature of the billet before entering the furnace: less than 400 for 1000m length billet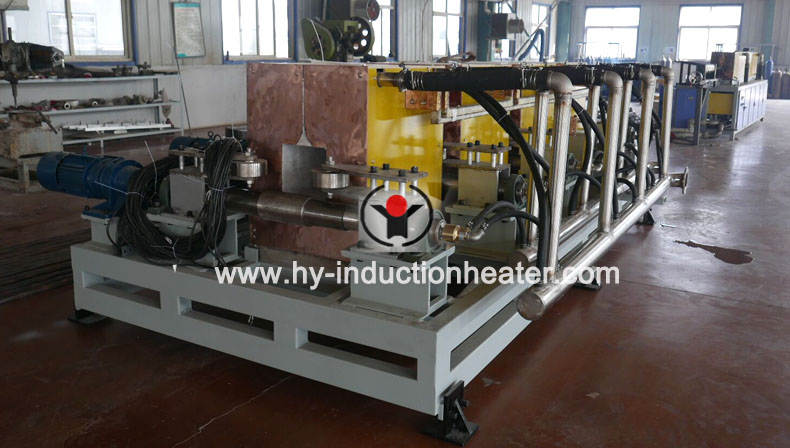 The characteristics of the customized continuous casting billet heating furnace are as follows:
1.Power supply system: Double rectifying twelve pulse or twenty-four pulse KGPS1000KW single intermediate frequency power supply is used independently or multiple power supplies are used. The special transformer is installed to reduce the influence of harmonics on the power grid. The user can be used safely and reliably.
2.The surface temperature of the continuous casting billet before entering the furnace is greater than or equal to 850 degrees C.
3.Control system: the entire heating process realizes PLC automatic control, and timely displays the heating quantity and other production records. The console is used alone, specially customized man-machine interface, highly humanized operation instructions, full digital and high depth adjustable parameters, with one key reduction function and simple operation.
4.Power supply requirements: dual power supply transformer, 12 pulse rectifier power supply, can reduce harmonic pollution and improve work efficiency.
5.Feeding and guiding system: each independent motor reducer driving, set multi axis drive, single frequency converter control, the multi axis operation synchronization, the device selected well-known brand, reliable quality, stable operation. 304 non-magnetic stainless steel guide wheel is adopted to keep the guide wheel moderately elastic so as to adapt to the bending within the allowable range of the billet.
6.All sanding, spray and paint production for the cabinet. The equipment installed large liquid crystal temperature display screen (convenient for field personnel to observe and display data).

Contact person: Hailee Ma
Email:sales@foreverfurnace.com
Phone: 0086-18932783253(whatsapp, wechat)
Specialist of  induction billet heater  is glad to be your partner in the field of induction heating.
---
Post time: 07-03-2018