Why is billet induction heating furnace popular?
In addition to relying on continuous innovation and efforts, it is also very important to seize the opportunity for development. In the past 14 years, it has been devoted to the field of induction heating. It has rich experience in induction heating technology, and has realized "energy saving and consumption reduction". Adhering to the spirit of innovation, with the aim of high quality products, excellent technology, thoughtful service, user centered and market demand as the development goal, our company sincerely hopes to cooperate with you on the billet induction heating furnace project.
Q: what does the development of billet induction heating furnace depend on?
Answer: the state attaches great importance to the development and utilization of medium frequency induction heating technology for steel billet. The traditional low productivity furnace has been improved, and billet induction heating furnace accelerates the speed and efficiency of the production of steel enterprises. The task of billet induction heating furnace is to heat the steel to the required temperature and heating quality, cooperate with the rolling rhythm of the rolling mill, improve the working efficiency of the whole production line, and provide the service life of the workpiece.
Q: what does billet induction heating furnace need for development?
Answer: at present, the billet induction heater is mainly used in steel production. In recent years, the induction heating furnace of steel billet has developed rapidly. The induction heating equipment has broad prospects for development. Forever billet induction heater can be customized according to different specifications of workpieces to meet users' production needs.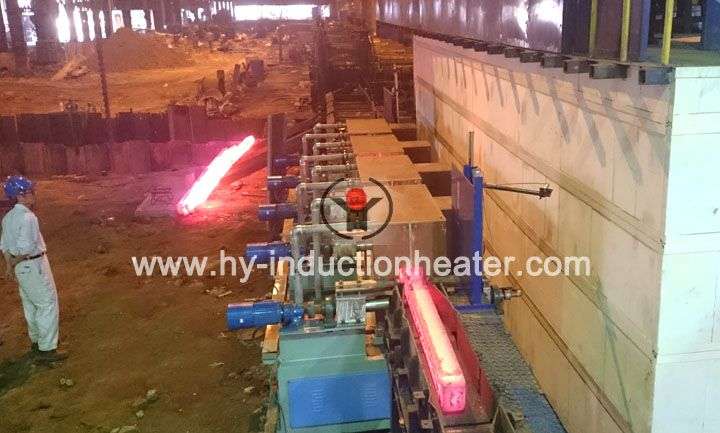 Q: what are the characteristics of the billet induction heating furnace?
Answer: the technical principle of the billet induction heating furnace is more advanced. Induction heating equipment is easy to operate, easy to control with high thermal efficiency and continuous operation. When steel is heated, there is no smoke, noise and dust, and it does not pollute the environment. It is a kind of green equipment with energy saving and environmental protection.
The influence of high technology on the development of billet induction heating furnace
The billet induction heating furnace uses PLC intelligent automatic programming to control the feeding and guiding system. Each motor reducer is independently driven. With 304 non magnetic stainless steel guide wheel, the guide wheel keeps a moderate elasticity in order to adapt to the allowable bending range of the billet.
If you are looking for billet induction heater, welcome to send us inquiry.

Contact person: Hailee Ma
Email:sales@foreverfurnace.com
Phone: 0086-18932783253(whatsapp, wechat)
Specialist of induction heating equipment and system in China; Glad to be your business partner in induction heating field.
---
Post time: 03-17-2018