Why choose hot rolled steel ball machine for producing balls?
Hot-rolled steel ball is a new rolling technology, and it is ball milling ball manufacturing technology breakthrough, which is gradually replacing the casting ball and ordinary forging.
Hot-rolled steel ball has the following characteristics:
[1] Strong Substitutability! With all the advantages of ordinary steel ball, the steel balls can be high quality grinding balls through the heat treatment.
[2] Automatic production, low human factors! High production efficiency, large output, rolling ball production mechanization, a high degree of automation, there is no manual production processes, employing less human interference, small, all the production can only be one person.
【3】 Stable quality, excellent mechanical properties! High hardness, good hardenability, dense microstructure, small grains, no deformation. The ball will not be deformed from beginning to end without losing the circle. Good wear resistance, impact toughness can be up to 12-35J / cm2, the rate of broken is less than 1%.
【4】 Energy saving and environmental protection! Low energy consumption, pollution-free, low labor intensity and low production costs.
[5] Small Geometric tolerances, stable quality.
【6】 The wear rate is low, long service life! 2-5 times than casting steel balls, and the price is quite low.
【7】 High hardness and uniform! Steel ball hardness can be up to 60 ~ 67HRC, internal and external hardness balance, hardness difference <5HRC.
【8】 High toughness, large proportion! Impact toughness is up to 12 ~ 35g / cm3, the proportion is up to 7.8 ~ 7.85g / cm3.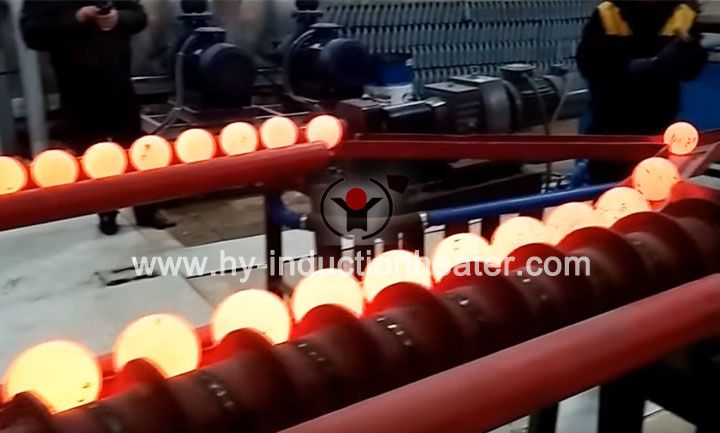 Main features of steel ball hot rolling machine
1. The rolling ball machine adopts semi-closed rack, steel frame is good;
2.Easy to adjust, easy to operate.
3.Locking firmly, high stability.
4. Guide plate replacement is quick and easy with high efficiency. This provide guarantee for steel ball hot roiling machine running smoothly.
PS:Any inquiry about hot rolled steel ball machine, please don't hesitate to contact with us.

Contact person: Hailee Ma
Email:sales@foreverfurnace.com
Phone: 0086-18932783253(whatsapp, wechat)
Specialist of induction heating equipment and system in China; Glad to be your business partner in induction heating field.
---
Post time: 12-28-2017