What is the cornerstone of building brand of induction heating furnace?
Futian Lei Wei heavy industries can break the monopoly of foreign brands, reflecting the strength and charm of technological innovation. The competition between products and enterprises means brand competition finally. For the same or similar cost investment, the market price difference of the product may be several times, more than 10 times even more, the basic reason is the brand. Therefore, in this sense, brand is the magic weapon of turning gold into gold and is the core competitiveness of enterprises. An enterprise wtih brand, even if the workshop is burned, the logistics line is broken, the machine is destroyed, it can rely on the brand influence and the appeal power to stand up again. On the contrary, an enterprise without brand support is only a giant.
Building the brand of induction heating furnace is a big project. It requires long-term efforts, top-level design, and constantly surpassing ourselves and our competitors. But if we are afraid to retreat and retreat, enterprises will never be bigger and stronger.If the induction heating furnace manufacturers want to establish a well known brand, he must meet the requirements of each customer for the induction heating furnace. The features of fast heating speed and uniform heating of induction heating furnace is essential for the workpiece heating.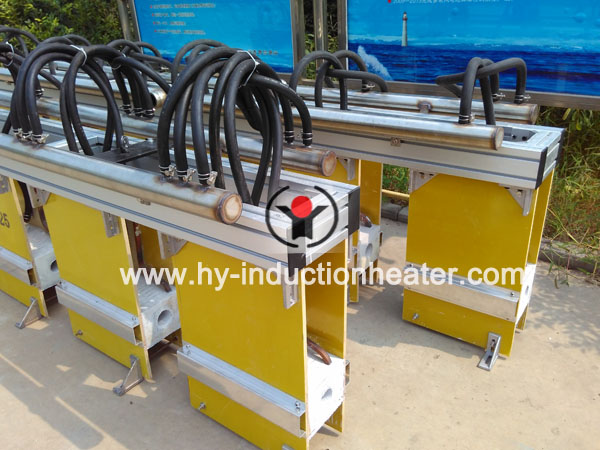 Induction heating furnace from Yuantuo has the following advantages as the cornerstone of the brand:
1. The induction heating furnace will be equipped as per different sizes of workpiece. All of the furnace bodies are equipped with quick connector of water and electricity, so that the replacement of induction bar heater is simple, fast and convenient.
2.Compared with other heating equipment, induction heating furnace has higher heating efficiency, which can reduce the energy consumption effectively. The labor productivity is higher, no pollution and meets the environmental requirements.
3.Because the principle of induction heating furnace is electromagnetic induction, its heat is due to the production of the workpiece itself, the heating method is fast heating, less oxidation, high heating efficiency, better process repeatability. There is only slight decolorization of the metal surface, slight polishing can make the surface restore the mirror bright, thus effectively obtain constant consistency material properties.
Yuantuo induction heating furnace is widely used for steel bar, pipe, tube, plate and billet. Especially our steel pipe heating equipment has been successfully used for various pipes heat treatment such as quenching, tempering, annealing, normalizing and so on.

Contact person: Hailee Ma
Email:sales@foreverfurnace.com
Phone: 0086-18932783253(whatsapp, wechat)
Specialist of induction heating equipment and system in China; Glad to be your business partner in induction heating field.
---
Post time: 05-12-2018