The features of power supply cabinet for billet induction heating equipment

Induction heating power supply is the heat source of billet induction heating equipment, which is the core components to ensure the normal work, for this reason, the use of induction heating power performance has some requirements.
The performance requirements are the following:
1.The reliability requirements. Induction heating power supply should have the reliability of technical indicators, reliability indicators can be measured by MTBF . The average time between failures is not less than 3000h.
2.Security requirements. Induction heating power supply should meet the standards or product specifications of the safety indicators.
3.Maintainability requirements for billet induction heating equipment.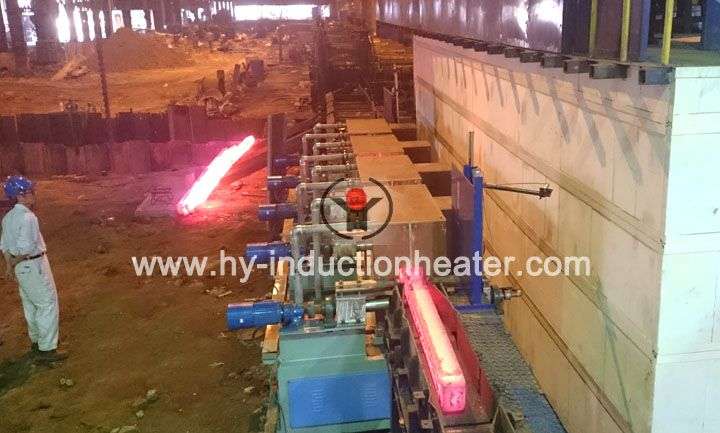 For large power supply output requirement, we will usually design 6 phase 12 pulse power supply cabinet for billet induction heater.
Features:
MCSV 7.6F IF power supply control system adopts DSP + FPGA composites integrated circuit and fully digital circuit implementation. All parameters can be digitally corrected on the touch screen or remote device which has characteristics of high reliability, strong anti-interference ability and quick response .
The control system is designed with Forever unique constant power / constant angle mode selection function. At low frequency or when you need large power, you can select constant power mode: After the DC voltage output is at full load,it will continue to increase the IF voltage and DC current, which will automatically adjust the load impedance matching. This can achieve constant power output, saving time, electricity and increasing the network power factor. At high frequency or when you need precise control to inverter front angle, you can select constant angle mode: automatically adjust inverter front angle in equipment running, so that the equipment can run stably under the conditions of impedance changes rapidly, over high working frequency or other bad conditions.
For the requirement which need different frequency, we will usually use IGBT power supply.
Features:
● Composite parallel resonance power supply design, chopping power-regulation. This design both has high stability, high adaptability of parallel resonance and advantages of series resonance high power factor and energy-saving.
● Based on the IGBT full-controlled device design, this power supply has complete protection functions which can be intelligent maintenance-free in the maximum scope. Single power supply can cover all the induction heating areas to meet your diverse requirements.
● Self-Adaptive at frequency variation or load variation;the frequency adaptation range is 200-300KHz; induction furnace replacement is automatic matching, no need to make any manual adjustments.
● The power supply cabinet adopts T2 copper which is processed by sandblasting and passivation; low leakage inductance, antioxidant, effectively reducing line losses.
● Full touch screen control, pure digital setting, with complete process record and strict purview control.The main parameters can be one key recovery of the factory settings.
● Per single output power 50-6000KW, frequency 200-300KHz.

Contact person: Hailee Ma
Email:sales@foreverfurnace.com
Phone: 0086-18932783253(whatsapp, wechat)
Specialist of induction heating equipment and system in China; Glad to be your business partner in induction heating field.
---
Post time: 01-22-2018