Temperature and product characteristics in the furnace of continuous casting billet heating furnace
As one of the most important manufacturers of induction heating equipment in China, it has always been the main pioneer of new technology and new products in this field, leading the direction of industry development. In order to let everyone better understand the advantages and characteristics of continuous casting billet heating furnace, we specially selected some of the products welcomed in the market for promotion.
Continuous casting billet heating furnace is a medium frequency heating equipment which can fully meet the demand of the market. At present, many of Forever induction heating equipment has delivered and put into operation. The customers are very satisfied. The continuous casting billet heating furnace has the advantages of exquisite design, precise control and German manufacturing quality. It has become the preferred product of many customers.
Characteristics of temperature in the continuous casting billet heating furnace
In the furnace, the metal temperature is the highest and the wall of the furnace is in the middle. Through the principle of magnetic induction heating, the electromagnetic will be passed to metal and make the metal produce heat by itself. Therefore, the heat in the continuous casting billet heating furnace must be continuously supplemented by electric energy, and at the same time, the low temperature gas is continuously discharged outside the furnace.
Secondly, the furnace wall itself is not a source of heat. When the temperature of the furnace wall is stable, the heat absorbed by it is mostly distributed to the metal except a small part scattered around it. Therefore, the furnace wall acts as an intermediate medium for heat transfer throughout the whole process.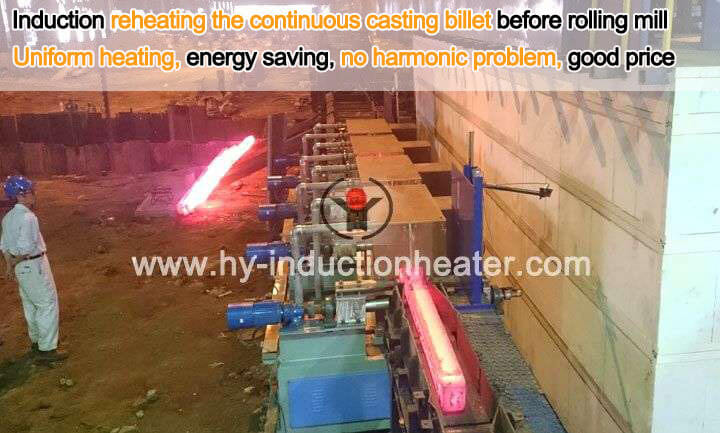 Continuous casting billet heating furnace has several remarkable advantages
1. Economic equipment, power saving and no emission;
2.Easy operation, good heating effect, comfortable operation of workers, help to humanized management;
Three, the use of a number of well-known international brands as the main electronic components, performance is more stable, more reliable quality.
4. PLC console has integrated dashboard, which can display parameters such as water temperature, speed, power supply pressure, working time and so on.
Medium frequency continuous casting billet heating furnace configuration IGBT energy-saving high-power power supply cabinet, perfectly matching with the transmission system, which can adapt to different types of products, low cost, energy saving effect is increased by 10%. The performance of the device is optimized, the heating efficiency of the furnace is increased by 20%. Not only that, the continuous casting billet heating furnace adopts the new patented technology of Fuji rectifier module, the reliability will be increased by 25%.

Overseas manager: Tom Wang
Email:tom@foreverfurnace.com
Phone: 0086-13303078975(whatsapp, wechat,line)
Specialist of long bar heat treatment machine is glad to be your partner in the field of induction heating.
---
Post time: 08-01-2018