Technology and characteristics of hardening and tempering furnace
The hardening and tempering furnace is provided by the Hebei Forever for the customers in the field of hot metal processing at home and abroad. It is mainly used in the heat treatment of steel bars, steel tubes, oil drill collars and metal long beams. Induction heating can be used to heat the parts of the workpiece surface. The modification process is often used for surface hardening, and can also be used for tempering and annealing of metal parts, and sometimes for integral heat treatment.
Round steel hardening and tempering furnace
Process characteristics:
Straightening——induction hardening——induction tempering——tempering holding——the workpiece can be cooled freely on the roller table and directly finish the quenching and tempering heat treatment process.
1.Straightening: after the workpiece is put to the top of the storage platform by manual work and sent to the parallel roller table through the step way by the feeding machine, and before the heat treatment, the seven roll straightening machine is straightened, and after the straightening, through the parallel roller track, the machine is sent to the mechanical tractor before the inductor.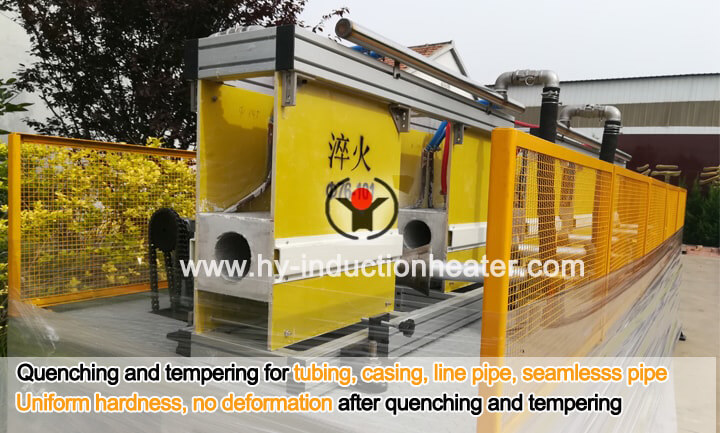 2.Induction hardening: through the steady speed of the tractor, the workpiece is sent into the induction heating and quenching system by the semiconductor frequency conversion device. The workpiece is preheated by the output sensor cabinet and infrared thermometer——temperature measurement——temperature rise——automatic temperature control to the heating temperature——it will be sent to quenching device for cooling——transported to roller table.
3.Tempering:After quenching, the workpiece will be sent into the feeding platform through mechanical device,and then sent into the tempering induction heating coils for holding, ensure the stable performance of the workpiece.
4. Cooling straightening: the workpiece enters the cold bed and the natural rolling cooling. After cooling, it is sent to the straightening machine and straightened and degaussing.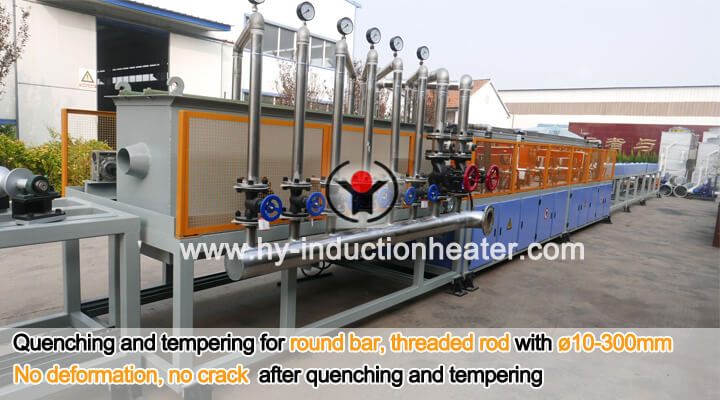 Forever is a professional manufacturer of induction heating equipment in China, providing a full range of induction heating heat treatment programs. The main equipment is: oil drilling rod quenching and tempering production line, drill collar hardening and tempering furnace, round steel quenching and tempering furnace, sucker rod surface quenching machine and so on.

Contact person: Hailee Ma
Email:sales@foreverfurnace.com
Phone: 0086-18932783253(whatsapp, wechat)
Specialist of long bar heat treatment machine is glad to be your partner in the field of induction heating.
---
Post time: 07-30-2018