Organization and total price of continuous quenching and tempering furnace for long shaft
Capacity 3.8-4.0t/h long shaft continuous quenching and tempering furnace can heat and quench the shaft metal materials between diameter 10 mm and less than 300 mm at high temperature heating and low temperature quenching, which can satisfy the induction quenching requirement of many kinds of shaft parts.
System configuration of long shaft continuous quenching and tempering furnace
The long shaft induction heat treatment furnace consists of Forever's unique intelligent medium frequency quenching system, induction heating equipment, storage table, quenching machine feeding device, infrared temperature measuring device, feeding table and PLC central control system. Servo motors and drives are made of SIEMENS brand. The inverter uses the Japanese MITSUBISHI inverter. The electrical control of the continuous quenching and tempering furnace of the long shaft and the interface control with the heating power supply are controlled by the CNC system program.
The quenching water tank is composed of quenching liquid tank, quenching water tank and power cooling water tank. The volume of each tank is 1 cubic meter, and the stainless steel material is welded. Quenching liquid tank and quenching water tank are equipped with filtering device. The filtering device is vertical stainless steel bag type. It is convenient to clean, with excellent filtering effect and good sealing. The water cooling connection of induction heating equipment  is equipped with quick change connector to make the inductor replacement become easier.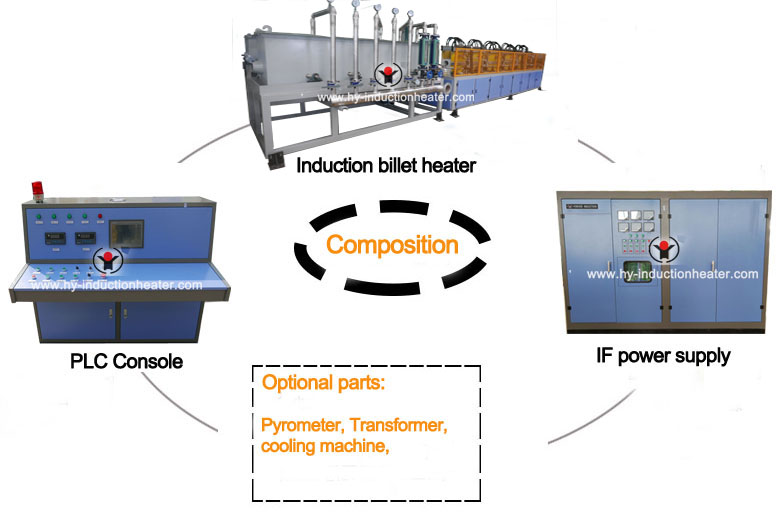 The main control system uses a CNC operating system composed of CNC system, AC servo drive and servo motor to control the AC servo motor. The system controls the frequency converter to realize the spindle rotation of the stepless speed control driving table. The spindle outputs 0-10V interface to control the power conversion of heating power supply. The position control of servo AC full servo control is directly completed in the driver. The control of position loop, speed loop and current loop are all realized, and the servo system with high speed response is realized, which is almost independent of load change.
According to different parameters of the workpiece, different induction heating equipment is designed. Wide frequency design to meet the wide range of size workpiece has higher heating efficiency to ensure that the workpiece performance meets the requirements.
Equipment configuration and total prices
The price of long shaft continuous quenching and tempering furnace includes many differences, such as the intelligent level of power supply, material selection, manufacturing process and details of key parts, forming a large price difference. In fact, the most critical thing is not the equipment itself, but a complete set of process formulation services that we ultimately provide to users. 

Overseas manager: Tom Wang
Email:tom@foreverfurnace.com
Phone: 0086-13303078975(whatsapp, wechat,line)
Specialist of induction hardening and tempering furnace is glad to be your partner in the field of induction heating.
---
Post time: 11-08-2018