More energy saving and environmental protection manufacturers choose tubing induction heat treatment furnace
Forever is located in Wuqiao, an internationally famous "acrobatic town", with high-end technology talents in Hebei intermediate frequency electric furnace industry. Since its establishment, the company has strengthened cooperation and communications with many professional organizations in China, and has advanced professional and technological standards in the field of induction heat treatment.
More and more enterprises are using induction heating equipment, and the enterprises that buy induction heating equipment is still increasing.
1. Induction heating equipment does not produce flame and can be heated. It changes the unsafe and environmentally friendly heating mode of traditional flame heating. In the case of no fire, the product can be heated after putting the workpiece into the induction heating coils. The induction heating equipment makes the heating products less oxidizing layer, fast heating speed, safe and environmental protection. The intermediate frequency induction heating furnace does not produce flame, and the working environment is more comfortable, which makes the operator more enjoyable.
2. Tubing induction heat treatment furnace can heat the tubing continuously and then spray water cooling by spray ring, which can heat the workpiece to a particular hardening layer. The induction heating equipment has small size and light weight, but can meet requirement of metals welding, heat treatment, quenching, annealing, hot forging, hot assembling for silver, copper, iron, aluminum, zinc and other metals. It has a wide range of application and has been recognized by the large number of users.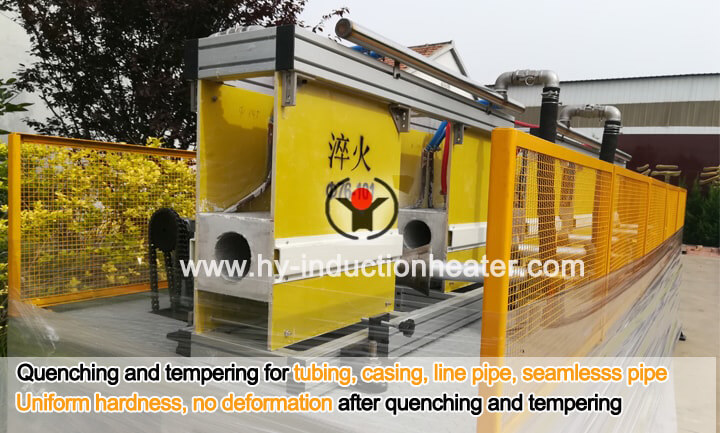 Induction heating equipment can not only heat metal objects but also heat the magnetic graphite rod, surface, and so on. More miraculous, it can heat dissolving glass and other non – magnetic materials, applied to the surface of the refrigerator tube and the surface of the cooling tube. The induction heating equipment can not only heat the magnetic or partial non magnetic objects until it dissolves, but also change the crystal structure of the metal, but the surface is brighter. It is often used for the bright annealing of the stainless steel tube surface, and the surface of the stainless steel tube under the gas protection is illuminated by the induction heating equipment.
The induction heating equipment produced by Forever tends to be in the leading level in the same industry, with high heating efficiency, low failure rate, reliable protection and so on. We create value for users with high quality products and satisfactory service. The company's business philosophy, pioneering and innovative to ensure that products have been leading.

Overseas manager: Tom Wang
Email:tom@foreverfurnace.com
Phone: 0086-13303078975(whatsapp, wechat,line)
Specialist of long bar heat treatment machine is glad to be your partner in the field of induction heating.
---
Post time: 07-10-2018