Main process characteristics of s45sc bar quenching and tempering furnace
Starting from environmental pollution control, with the continuous improvement of people's environmental awareness, energy conservation and environmental protection has become an inevitable trend in the development of heat treatment industry. In order to better serve customers and to protect the people's living environment, many traditional heat treatment equipment shortcomings have been unable to meet the needs of the production and market. Induction heat treatment furnace will need to develop towards a more high-end, more advanced, more energy efficient, more environmentally friendly direction.
S45sc steel is a carbon structural steel. It has good cold and hot processing properties, good mechanical properties, low cost and wide range of sources. During the continuous operation of the bar quenching and tempering furnace, the quenching and tempering process can be completed, which is suitable for the medium and small section sizes of various carbon steel (including low alloy steel) bars, pipes and shaft parts. The process has the characteristics of high production efficiency, small deformation, no decarbonization and no pollution, good consistency of product quality and automation of production process. It is especially suitable for mass production, and is the first choice for bar quenching and tempering furnace.
In the whole process of quenching and tempering, the whole section of the workpiece must be hardened, so that the workpiece can get fine needle martensite structure. Through high temperature tempering, the bar steel can get the tempered sorbite as the main structure.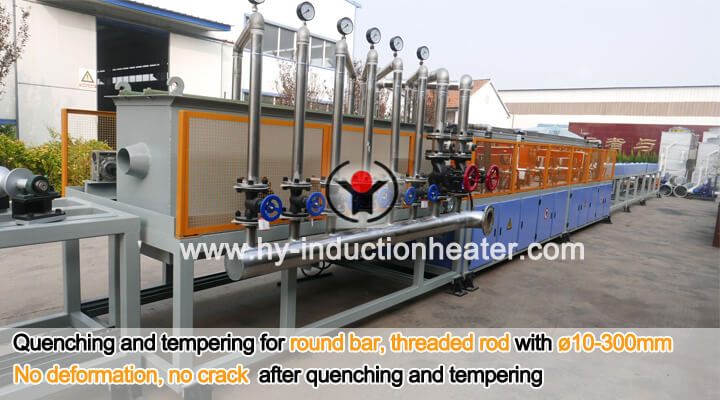 The main advantages of the bar quenching and tempering furnace are:
1. The bar quenching and tempering furnace adopts world famous electrical and pneumatic components as the main components. For the forgien users, you can buy the parts in local if some components need to be replaced.
2.Photoelectric sensor, the switch adopts advanced sensor elements to ensure that the device can stop the alarm when it fails.
3. PLC intelligent control system, the entire equipment is automatic operation, flexible and convenient, just set parameters to complete the work process.
4. It can achieve high power control, fast heating, uniform heating and less energy consumption.
In operation, the Forever bar quenching and tempering furnace does not produce noise, dust and smoke, and does not pollute the environment. The power of continuous quenching and tempering furnace can be adjusted according to the actual use.

Overseas manager: Tom Wang
Email:tom@foreverfurnace.com
Phone: 0086-13303078975(whatsapp, wechat,line)
Specialist of induction billet heater is glad to be your partner in the field of induction heating.
---
Post time: 07-07-2018