YUANTUO is a professional manufacturer of steel rolling and bar heating furnace with low price and quality assurance. It mainly provides you with various induction heating equipment and induction heat treatment equipment with good quality, affordable price, energy conservation and environmental protection, such as steel rolling and bar heating furnace, billet heating furnace, steel bar heating furnace, steel pipe heating equipment, steel pipe heat treatment furnace, etc.
Working characteristics of the main components of the heating furnace for rolling bar:
1. Power supply system: kgps1000kw-4000kw / 0.2-8khz or igbt1000kw-2000kw / 1-20khz & nbsp;
2. Material storage system: the thick wall square tube is welded to form a material storage platform, with a slope of 13 & deg; and 6-8 materials can be stored.
3. Feeding system: air cylinder, hydraulic cylinder or roller table + power double pinch roller.
4. Temperature control system: infrared temperature measurement PLC temperature closed-loop automatic temperature control system.
5. Discharging system: the discharging system adopts rotary conveying mechanism.
6. Industrial computer system: record and display the current working parameters and status, material parameter memory, storage, printing, rolling equipment failure, automatic power reduction and constant temperature and many other powerful functions.
7. Energy conversion: heat each ton of steel to 1050 ℃ and consume 310-330 ℃.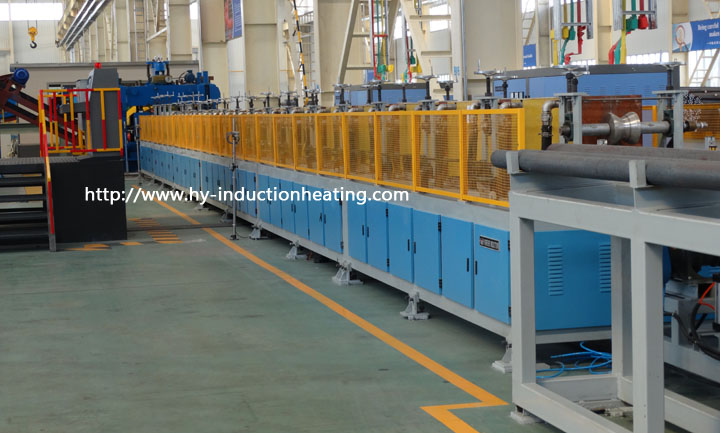 Advantages and features of heating furnace for rolling bar:
1. Less oxidation and decarburization: heat is generated in the heated workpiece, with fast heating speed, high efficiency, less oxidation and decarburization on the workpiece surface, which can save a lot of raw materials.
2. Heating temperature is uniform and pollution-free: the air-cooled variable frequency power supply can directly and accurately detect the change of load current, realize the closed-loop control of output power, and maintain the output power and temperature stability even if the external voltage fluctuates.
3. High degree of automation: high degree of intelligence of power supply, accurate temperature adjustment, automatic tracking of frequency conversion, adaptive load change, automatic power regulation and other intelligent advantages. One key start, automatic completion of heating work, no need for personnel on duty.
5. Continuous automatic production: steel products of different specifications and varieties are frequently replaced to adapt to different production processes. After frequency conversion and load change, there is no need for personnel adjustment. The whole line clearing and process adjustment are simple and fast to meet the needs of medium and large batch production.
6. Furnace striking protection: in addition to the perfect protection function of the frequency conversion metal heat treatment furnace, the full-automatic frequency conversion power supply has a reliable furnace striking protection function, and the user can also customize the furnace striking protection fault display function individually.
7. PLC general operation control system: good man-machine dialogue window, real-time record of the adjustment data system with human participation, real-time record, archive, query, print and other functions of production data.

Overseas manager: Tom Wang
Email:tom@foreverfurnace.com
Phone: 0086-13303078975(whatsapp, wechat,line)
Specialist of  induction heat treatment furnace in China; Glad to be your business partner in induction heating field.
---
Post time: 04-19-2020