Hebei Yuanto Electromechanical Equipment Manufacturing Co., Ltd. is a well-known supplier of induction heating equipment. The main equipment has the forging and heating equipment, the IGBT induction reheating machine,the induction quenching equipment, the induction annealing equipment and the medium-frequency tempering equipment. The heat treatment equipment such as the intermediate-frequency quenching and tempering equipment is mainly applied to the heating and diathermy of the standard parts; the fasteners are heated and heat-transmitted; the bar round bar is heated and heat-transmitted; the bolt nuts are heated and heat-transmitted; and the end parts, the parts, the whole heating or the heat-transmitting part of the square steel round steel are heated and heat-transmitted and the like.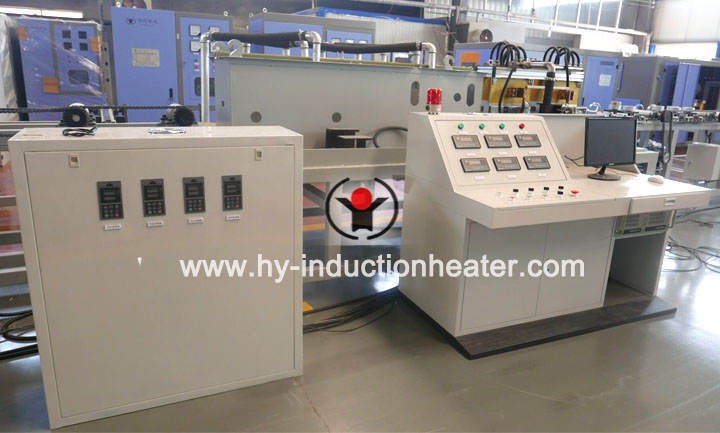 The intermediate frequency furnace consists of an intermediate frequency power supply, an induction heating furnace, an intermediate frequency control system and the like. the intermediate frequency power supply is used for converting the three-phase power frequency alternating current to direct current through a rectification circuit, and then outputting the three-phase power frequency alternating current into a single-phase medium-frequency alternating current to be supplied to an induction heating device, Hot working requirements such as diathermy and heat treatment. The performance characteristics of the remote-to-large electromechanical induction heating equipment are as follows:
1. The central control circuit board adopts a computer optimization design, the unit circuits are optimized and optimized, the equipment performance is stable, the quality of the production workpiece is reliable, the anti-interference performance of the equipment is strong,
2, the layout of the components is reasonable, the maintenance is convenient, and
3, the induction heating equipment is stable in operation, no current is generated on the equipment during operation,
4, the inversion starting signal of the heat treatment electric furnace adopts a single-signal high-sensitivity trigger circuit, the starting performance of the intermediate-frequency furnace is further increased, and the starting success rate of the equipment reaches more than 99 percent; and
5, in the constant-power circuit control system, the voltage and the current are automatically regulated on a proper setting with the change of the workpiece in the production, the inversion cut-off angle is not needed to be adjusted manually,
6.The safety protection measures such as voltage limiting and current limiting, the use reliability of the induction heating equipment and the working stability are guaranteed;
7, the highly integrated circuit scheme, the debugging and the operation are quick, convenient and easy to learn.
---
Post time: 05-28-2019