Billet induction heating furnace– high heating efficiency with more profit
In the early morning of July 3rd, we received a call from Mr. Tang, a user in Fujian. In the telephone, Mr. Tang mentioned that Forever electric billet induction heating furnace has been formally put into operation for half a year. It has been running continuously and efficiently, the heat effect is good without crack and deformation, the work environmental protection and energy saving, the quality of the finished product are excellent, the defects of no burn, oxide skin and crack are found, the industrial value is high, the overall use effect is very good, and its own heat is very good. The value of the steel mill has been improved a lot. Mr. Tang said, "Forever billet induction heating furnace is really efficient heating machine, and has brought more profit to us, we will consider to buy another one next year."
Of course, Mr. Tang's success is not an accident. The billet induction heating furnace is not once recognized by the user, its market share is quite high, and the market is more trustworthy. It is known that the current market coverage of Forever induction heating equipment has covered many cities in China, and it is also popular in many countries such as Indonesia, Philippines, Russia, Serbia, India and other countries, which are well received and appreciated by the users.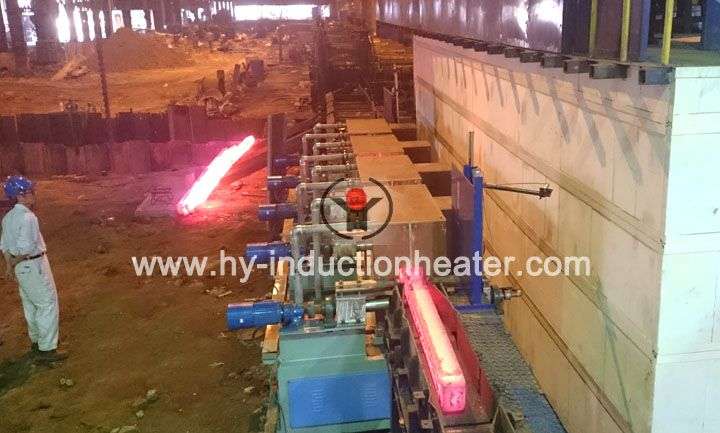 Firstly, powerful function, easy heating without pressure
The billet induction heating furnace is composed of medium frequency power supply, automatic feeding mechanism, transportation system, induction heating system, capacitor, console and other parts. All kinds of equipment have powerful functions.
1. Billet induction heating furnace: simple structure, small space occupation, high production efficiency, convenient operation and more economical use.
2.Billet induction heating furnace: automatic design, module division technology, quick installation, mobile flexible, energy saving and environmental protection, efficient and convenient.
3.Billet induction heating furnace: production without straightening equipment, small investment, energy saving, low cost, more efficient production.
Secondly, hot selling due to superior quality
For the same condition including billet size, capacity and power, Forever billet induction heating furnace is more energy saving, which is not only because our intelligent IF power supply but also the induction heating coil design.

Contact person: Hailee Ma
Email:sales@foreverfurnace.com
Phone: 0086-18932783253(whatsapp, wechat)
Specialist of  induction billet heater  is glad to be your partner in the field of induction heating.
---
Post time: 07-03-2018