FOREVER electric machinery has rich experience in induction heating technology. The billet electric heating furnace is excellent and advanced in technology! Intelligent series resonance induction heating power supply control. The billet electric induction heating furnace can save 10% – 30% energy. The specially customized human-computer interface and highly humanized operation instructions can provide corresponding language switching for different countries and regions. The operation of the electric induction billet heating equipment is simple.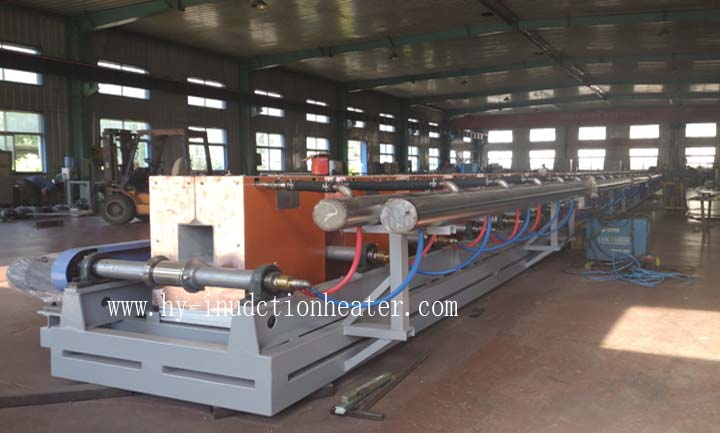 Technological transformation project of billet online induction heating instead of gas and natural gas heating furnace:
The traditional steel rolling process is that the steel billets are cooled by stacking and transported to the steel rolling plant, then heated by the heating furnace and rolled into steel. There are two defects in this process:
1. After the billet is pulled out from the steel-making caster, there is a temperature of 700-900 ℃ on the cooling bed, and the latent heat of billet has not been effectively utilized.
2. After the billet is heated in the heating furnace, the surface loss due to oxidation is about 1.5%.
Features of electric induction billet heating furnace:
1. The electric induction billet heating furnace is controlled by series resonant power supply, full digital, full open rectifier, high power factor and small harmonic component.
2. Uniform heating, less oxidation and decarbonization, low power consumption.
3. The whole heating process of the electric induction billet heating furnace is controlled by PLC automatically, and all kinds of data in the heating process are displayed timely and can be saved and recorded.
4. The furnace body adopts profiling design, the copper tube is wound with T2 oxygen free copper, the wall thickness of the copper tube is greater than or equal to 3mm, and the furnace body insulation material is made of American imported knotting material, with high strength, high temperature resistance and long service life
5. After heat treatment, the billet has better compression internal stress, which makes the anti fatigue and breaking ability of the workpiece higher, the workpiece has no crack phenomenon, and the tensile strength is large.
6. The material of water-cooled supporting roller and stop roller of billet induction heating electric furnace is 304 non-magnetic stainless steel, which is wear-resistant and has long service life
7. Feeding and guiding system: each shaft is driven by an independent motor reducer, equipped with multi shaft drive, controlled by a single frequency converter, so that the multi shaft operation is synchronous, and the components are of high quality, reliable quality and stable operation. Adopt stainless steel guide wheel, keep the axial direction of guide wheel with moderate elasticity, so as to adapt to the bending within the allowable range of billet.

Overseas manager: Tom Wang
Email:tom@foreverfurnace.com
Phone: 0086-13303078975(whatsapp, wechat,line)
Specialist of  induction heat treatment furnace in China; Glad to be your business partner in induction heating field.
---
Post time: 05-22-2020